Paris Express
Prepare for an exciting day, full of sightseeing in Paris, the City of Light!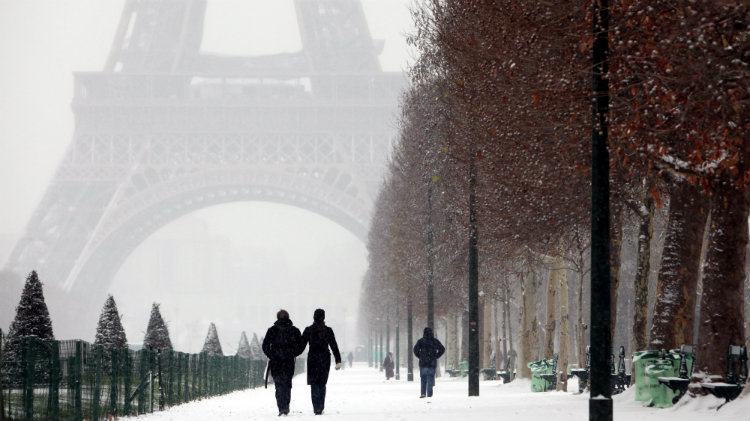 Prepare for an exciting day, full of sightseeing in Paris, the City of Light!
Enjoy the view from the viewing platform of the Eiffel Tower or the rooftop terrace Tour Montparnasse (the only place in Paris where you can't see the ugliest building in town), ride the RER to Versailles, take the "secret" back entrance into the Lourve and skip the line to see the Mona Lisa. With no tour guide to follow or pre-planned sight-seeing schedule to adhere to, you are free to explore the "most romantic city in the world" however you wish.
If you asked 50 different people to describe the best way to spend a day in Paris, you would get 50 different answers. Don't settle for someone else's pre-packaged day in Paris seeing what they want you to see. When you download a free e-travelguide for your phone or tablet from Army Libraries you can make your trip to Paris your own.
Why pay more for your perfect day in Paris? Reserve your space with Kasierslautern Outdoor Recreation today!
Price:
Adults: $99 per person
Children under 12: $79 p.c.
Price Includes:
What to bring:
Departure: 3 a.m.
Return: Around 2 a.m.
Registration Information
All reservations must be made through Army Outdoor Recreation. Sign up today by contacting:
Army Outdoor Recreation, Kaiserslautern Community
Pulaski Barracks, Bldg. 2905
Cancellation Policy:
Cancellations requested 48 hours prior to trip departure will receive a 90% refund.
Cancellations made less than 48 hours prior to departure will receive a 50% refund.
There is no refund for no-shows or cancellations made less than 12 hours prior to departure.

No refunds will be offered to passengers who are denied boarding or are removed from a trip for failure to follow COVID procedures.

In the event that a customer cancellation results in a fee charged to Outdoor Recreation, regardless of the date of or reason for that cancellation, the total sum of those fees will be passed along to the customer.
COVID Precautions (Current as of 1 December 2021. May be superseded by Local/State/Federal level laws):
Effective 24 November, 2021 and continuing until further notice, all Kaiserslautern Outdoor Recreation trips fall under the German 2G rule:

All persons 18 years of age or older must be fully vaccinated against COVID-19 or have recovered from COVID-19
Children 12-18 years of age must be vaccinated against COVID-19, recovered from COVID-19, or show proof of a negative COVID-19 test.
Persons who cannot be vaccinated against the coronavirus for medical reasons (with a qualified medical certificate and children up to and including the age of 11 are exempt.
Effective 6 November, 2021, all trips are departing from Kaiserslautern Outdoor Recreation, Pulaski Barracks, bldg. 2905
All passengers to France are required to have an EU Digital Covid Certificate to gain entry to virtually all indoor facilities, including restaurants, monuments and museums. A CDC card is acceptable to cross the border, but is not compatible with the French Health Pass plan.

In the event that an individual passenger is not able to participate in a confirmed trip due to COVID restrictions placed on the passenger, full cancellation penalties may be applied based on the date of the customer's cancellation.

All participants are required to be in compliance with the rules for their destination and all countries of transit as listed in the Travel Planner on https://reopen.europa.eu at the time of departure.

All Travel/COVID Documentation is the responsibility of the passenger.
PCR and RAT (Rapid Antigen Tests) are the only approved testing methods. Self tests are not authorized for international travel.
No refunds will be offered to passengers who are denied boarding or are removed from a trip for failure to follow COVID procedures.
Trip timelines and schedule and COVID precautions are subject to change at any time.
Masks covering your nose and mouth are required when boarding, disembarking or inside ODR vehicles.
Hands must be sanitized before boarding ODR vehicles.
Enter and exit through the rear door only.
Seats may be assigned by ODR in advance to promote physical distancing and contact tracing. Requests for specific seats are not being accepted.
Kaiserslautern Outdoor Recreation

Military DSN (314) 493-4117