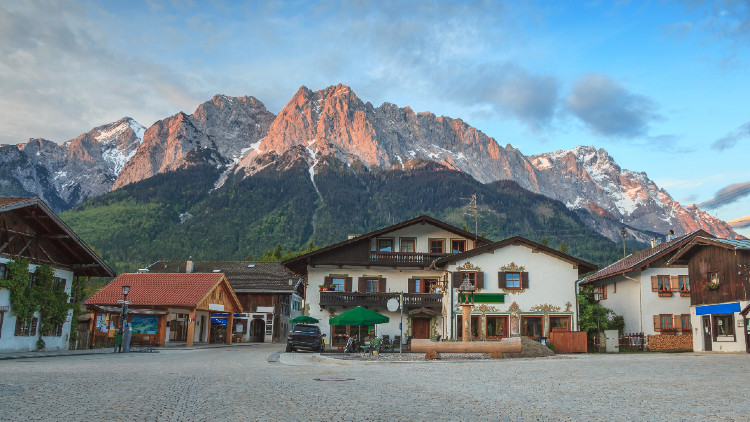 Date: Aug 15 2020, 2 a.m.
Kaiserslautern Outdoor Recreation - Pulaski Barracks Bldg. 2905 Kaiserslautern 67661 Google Map
Spend a relaxing day in gorgeous Garmisch-Partenkirchen, home to the Zugspitze, the highest point in Germany.
Garmisch is full of ways to spend your day, ranging from alpine adventures to shopping and downtime in a beautiful location. Hiking trails criss-cross the Hausberg, the Alpspitze, and the Kramerspitze, many leading to mountainside restaurants where you can treat yourself to a Windbeutel (Bavarian Cream Puff) with ice cream and Helles Bier. Bike paths extend up and down the Loisach river and through the low level forests, and the Bavarian Zugspitze Train or Cable Car will take you above the clouds to the cross at the summit of Germany's highest mountain, Zugspitze, or the AlpspiX viewing platform on the Alpspitze. Staying closer to the center of town, you have opportunities for shopping, or for a short hike involving both nature and history, you can hike past the Olympic Ski Jump to the Partnach Gorge, and return over the mountain with a stop at the Graseck. Before departure, you will want to make sure to enjoy a dinner at one of Garmisch's many traditional Bavarian or other popular restaurants.
Before traveling with Kaiserslautern Outdoor Recreation, make sure you are authorized to do so, have the proper travel documents, and have familiarized yourself with our Coronavirus Precautionary Practices.
Garmisch-Partenkirchen is a great one day getaway. Reserve your space today!
Price:
Adults: $99 per person
Children under 12: $69 p.p.
Trip Includes:
What to Bring:
Comfortable, weather appropriate shoes and clothing
Credit/Debit Card or Euro, VAT forms
Military ID
Departure: 2 a.m.
Return: Around 3 a.m. Sunday
Registration Info
All reservations must be made through Army Outdoor Recreation or Webtrac. . Sign up today by contacting:
Army Outdoor Recreation, Kaiserslautern Community
Pulaski Barracks, Bldg. 2905
Cancellation Policy:
Cancellations requested at least 48 hours prior to trip departure will receive a 90% refund.
Cancellations made less than 48 hours prior to departure will receive a 50% refund.
There are no refunds for no-shows or cancellations made less than 12 hours prior to departure.

In the event that a customer cancellation results in a fee charged to Outdoor Recreation, regardless of the date of or reason for that cancellation, the total sum of those fees will be passed along to the customer.
COVID Precautions:
Trip timelines and schedule are subject to change at any time due to changes in COVID restrictions.
All trips are departing from the Pulaski Sports Pavilion in Pulaski Park until further notice.
Masks covering your nose and mouth are required at all times on the bus.
Hands must be sanitized before boarding the bus.
Enter and exit through the rear door only.
Seats may be assigned in advance to promote physical distancing and contact tracing. Requests for specific seats are not being accepted.
All passengers must provide full name, physical address and phone number for contact tracing purposes.
Eating and drinking in ODR vehicles is not authorized
All Travel Documentation is the responsibility of the passenger. Border restrictions may occur at any time without warning. Many European countries are expected to continue entry restrictions for personnel traveling only on US Tourist Passports. Therefore ODR strongly recommends that all travelers travel with both their tourist and official passports and/or SOFA card.
Contact