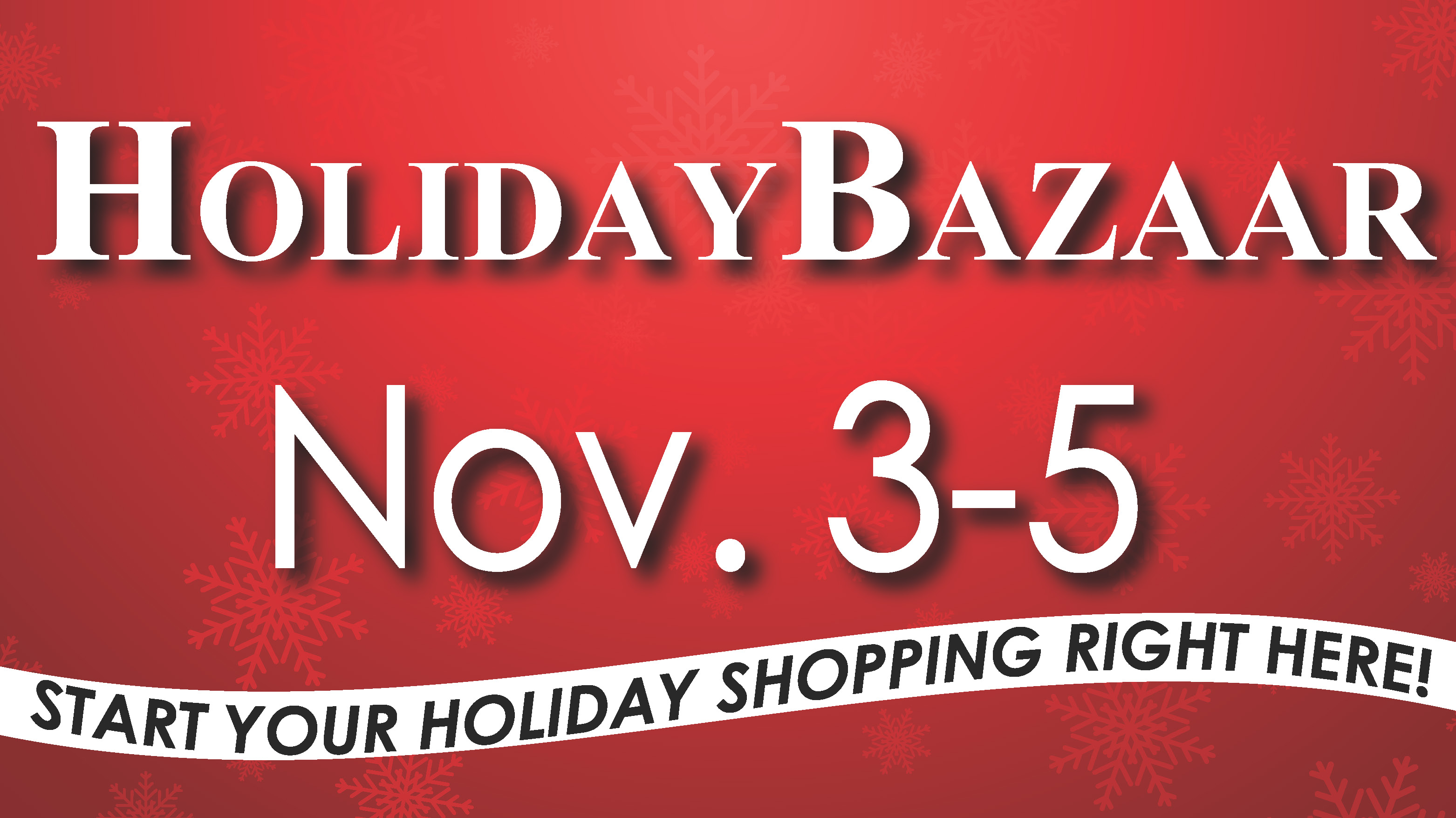 Note: This event has already passed.
Date: Nov 3 2017, 10 a.m. - 7 p.m.
Special Events Center - Rhine Ordnance Barracks, Bldg. 237 Opelkreisel 11 Kaiserslautern, Rhineland-Palatinate 67663 Germany Google Map
2017 Holiday Bazaar Schedule:
| | |
| --- | --- |
| Date | Time |
| Friday, Nov. 3 | 10 a.m. - 7 p.m. |
| Saturday, Nov. 4 | 10 a.m. - 6 p.m. |
| Sunday, Nov. 5 | 11 a.m. - 5 p.m. |
The Holiday Bazaar is a shopper's paradise for all of your shopping needs. Vendors from all over Europe will showcase:
Jewelry
Furniture and Home Décor Items
Oriental Rugs
Cuckoo and Grandfather Clocks
Wine, Cheese & Belgium Chocolate
Christmas Ornaments & Decorations
Polish Pottery
and more...
Take advantage of this perfect opportunity to find your unique European gifts for friends and family or for yourself.
Open to all U.S. ID cardholders
Dollars, Euro, credit and debit accepted
All sales are final
Stroller-friendly
Great for the entire family
Multi-cultural event with vendors from all over Europe
Santa will be coming to the bazaar! Bring your camera to capture a photo.
Directions:
From A6, take Kaiserslautern West exit. Follow Opel/IKEA signs, exit round-about at Rhine Ordnance Barracks. Follow event signs.
Thank you to our participating sponsors!

Sponsorship does not imply Federal endorsement.
Registration Info
Current List of Vendors:
Current List of Vendors:
| | |
| --- | --- |
| Business Name | Description of Products for Sale |
| Abdullah & Meghdir | Rugs |
| Bavarian Art Gallery | Oil Paintings |
| Crystal Factory Guth | Crystal |
| Giovanna Filomena Cutlery | Cutlery |
| Holland Handicraft | Wine barrels and wooden handicrafts |
| Irish Sweater | Irish memorabilia, clothing and accessories |
| Fratelli Mandile SNC | Cameo jewellry |
| Muggendorf Nutcracker Factory | Nutcrackers |
| Kaefer GmbH & Co. | Fine housewares, crystal, linens and home decorations |
| Giuseppe Scala | Italian wine, bottle holders, wooden boxes |
| Schmuckkasten | Fine jewelry |
| Weingut am Rosenberg | German wine |
| Weinhaus Friedrich Daudistel | German wine |
| Old Dutch Craft | Belgium beer and Dutch cheese |
| Portuguese Connection | Cork products, Portuguese ceramics |
| Immers Art, Antique-Dale of Norway | Icelandic sweaters and furniture |
| Rozendaal | Antique furniture |
| Magic Flame | Custom wood engraved plaques |
| O'Neill Import-Export | Tiles |
| B&M Delicacies | Belgium cheese and chocolates |
| Dupre Aviation & Art | Aviation artwork |
| English Oak | Antique furniture |
| Family Roots | Custom shields, swords & military rings |
| Keramik Studio Gessner | Lighted ceramic houses |
| SilvArt | Spanish artwork |
| Schappshaus | German schnapps and jams |
| Günter Arnold Furniture | Pax beer, prints and clocks |
| Bubbles Oh La La | Soap, lotion and bath bombs |
| The Kenya Shop | African memorabilia |
| Turkish Souvenir | Turkish lamps, rugs and ceramics |
| AD Art | Amber jewellry |
| Souvenirhandel Swetlana | Russian nesting dolls and boxes |
| Heike Toys | German wooden toys |
| Armetal | Metal home decorations |
| Andy Polish Pottery | Polish pottery dishware |
| Magnetix Wattenheim | Magnetic jewelry |
| My Gifts | Handpainted Glass Christmas ornaments |
| R&C Furniture | Belgium refurbished "shabby chic" furniture |
| Arnold Furniture | Furniture |
| Luc's Antiques | German antique furniture |
| Sele Antiques and Curiosa | Dutch antique furniture |
| Italian Wines and Gifts | Italian wine |
| Alphabet Photography | Custom photography art and lamps |
| Kunsthandwerk & Design | German high quality wooden pyramids and decorations |
| The Prosecco & Projito Corner | Italian prosecco and projito |
| Belux | Belgium cookware |
| Vintage Collection & Home Deco | Home decorations |
| Home and Fashion Boutique | Fine clothing and accessories |
| Frank's Antikhaus | Clocks, furniture and accessories |
| Wolters Antiques | Dutch furniture |
| Olive Wood Handicraft | Olive wood products |
| Exclusive Living Furniture | Unique furniture |
| Agnes & Dora by Janine Wolfe | Leggings and assorted trendy apparel |
| Gomel | Tapestries and handmade carpets |
| Weingut Kroth | German wine |
| Kunsthandel Markus Wahl | Artwork |
| Oropallo EVOO | Olive oil, chestnut wood ladders and baskets, Italian walnuts and apples |
| Creative Designs | Handpainted furniture |
| Riva Granda | Italian white wine |
| Antonio Pegoraro | Italian ceramics |
| Bourse Aux Vins | French wine and furniture |
| Little Box Kitchen | British cheese, olives and puddings |
| Depot 44 | Beligium rustic home furnishings |
| Lucky Sheep | Sheep furs and rugs |
| Good Old Soap Shop | Handmade block soaps |
| Sapore Italiana | Italian food items |
| FranzARTS | Handpainted oil paintings |
| Goufrais | Cocoa confectionary |
| | |
| --- | --- |
| Food Booths Private Orgs and FRGs | Food Items |
| Warrant Officers Association | Hotdogs and Frito Pies |
| OutServe Germany | Soup in Bread Bowl |
| Prince Hall Military Lodge #140 | BBQ Ribs, Chicken, Steak & Baked Beans |
| 21st TSC STB FRG | Mac & Cheese Varieties |
| 212th CSH | Breakfast Burritos & Tacos |
| 8th Medical Company | Waffles on a Stick |
| 106th FMSU | Baked Goods |
| | |
Contact
Tel:

0611-143-541-9055

Military DSN Tel:

541-9055