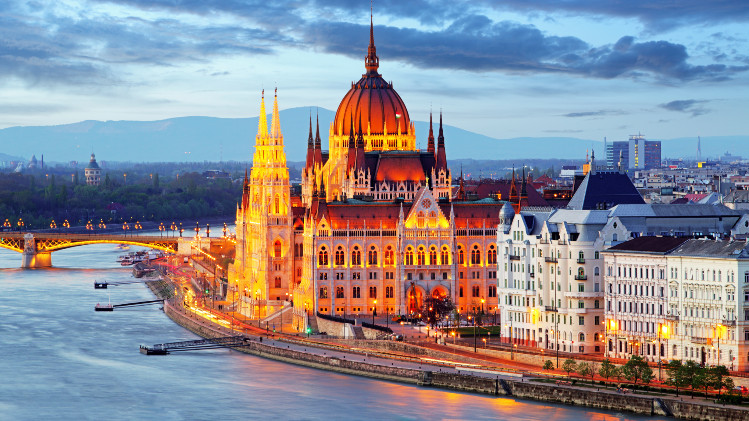 Imperial Weekend - Vienna and Budapest
Date: Oct 8 2020, 6 p.m. - Oct 12 2020
Kaiserslautern Outdoor Recreation - Pulaski Barracks Bldg. 2905 Kaiserslautern 67661 Google Map
Spend Columbus Weekend along the Danube river in three Hapsburg imperial cities, Vienna, Bratislava, and Budapest.
Estimated Itinerary
Thursday: Check in
After settling into your seat you will lean back and relax while your comfortable coach whisks you away to Budapest, the first destination in your multi-city trip. Don't forget the essentials for your overnight ride. Blankets, pillows, power banks, snacks and drinks will all help make your journey to Hungary more enjoyable.
Friday: Budapest
After you arrive in Budapest, drop off your luggage at your hotel and have breakfast, you will take part in a guided orientation tour of the city. Budapest was created by joining two cities, Buda, with the old royal castle on the hill, and Pest, where the city center lies next to the Danube river. After your morning tour you will be free to enjoy the city however you like. Shopping on the Vaci Utca, visiting the Turkish Baths, and enjoying the riverside promenade are always popular choices. Fans of the James Bond film "Goldeneye" will not want to miss Memento Park, the resting place of 40 Soviet statues, plaques and memorials which were removed from the city at the end of the Cold War.
Saturday: Free day or optional excursion to Bratislava*
The choice is yours today. Will you visit Bratislava, the capital of Slovakia, or enjoy more of Budapest's culture and attractions? Also on the Danube, the city of Bratislava is also a former Hapsburg Imperial Capital, and features a castle and a small but interesting city center along the river. This is your chance to eat at the UFO restaurant on the peak of the Most SNP, the bridge crossing the Danube River from the city center. Your evening will be spent in Budapest, and will be another opportunity for you to enjoy Hungarian cuisine and hospitality.
Sunday: Vienna
When you arrive in Vienna, the capital of Austria, and the home of the Imperial Hapsburg family, you will be stepping back in time to the 19th century. While the city has all the modern conveniences, including a Hard Rock Café, the city center maintains its 19th century appearance and feel, complete with horse and carriage rides and much more. After an orientation tour of the Imperial Capital, you will be free to explore the Hofburg, St. Stephen's Cathedral, watch a performance of the Lipizzaner Stallions at the Spanish Riding School or a performance of the Vienna Boy's Choir, or visit the Prater amusement park. Your tour manager can even assist with making plans for the evening, if you would like to go to the opera, concerts or dinner.
Monday: Return to Kaiserslautern
After breakfast, you will stop at Schönbrunn Palace** will allow you to visit the gardens before your afternoon return drive to Kaiserslautern.
* Optional excursion paid directly to tour manager
** Optional Palace entry not included
Price, until Friday, August 21:
Double Occupancy: $479 per person
Single Occupancy: $629
Up to two children under 12 in family room or adjoining double rooms with 2 paid adults: $399 p.c.
Infants under 3 in existing bedding: $229 p.c.
Price, on or after Moday, August 24
Double Occupancy: $529 per person
Single Occupancy: $679
Up to two children under 12 in family room or adjoining double rooms with 2 paid adults: $399 p.c.
Infants under 3 in existing bedding: $229 p.c.

Room assignments for families will be determined by the hotels based on their specific capacity and available room types.
Families will be assigned to either Family Rooms or adjoining double rooms by the hotels.
Kaiserslautern Outdoor Recreation does not guarantee any requested room configuration will be assigned by any particular hotel.
Deadlines and Discounts:
Early Bird Discount expires at Close of Business on Friday, August 21
Empty hotel rooms will be cancelled on Monday, September 7
Registrations made on or after Tuesday, September 8 will be on a Space Available Basis and may be subject to hotel price supplements
Trip Includes:
Round trip tour bus transportation
2 overnights at a 4 star hotel in Budapest
1 overnight at a 4 star hotel in Vienna
Daily Breakfast, Friday through Monday
Guided tour of Vienna
Guided tour of Budapest
Optional Excursions, paid in cash to tour manager:
Day trip to Bratislava: €35 per person
What to Bring:
Comfortable, weather appropriate shoes and clothing
Credit/Debit Card or Euro and Hungarian Forints
Military ID and Tourist Passport
Departure: 6 p.m.
Return: Monday Evening
Registration Info
All reservations must be made through Kaiserslautern Outdoor Recreation. Reserve your space today by contacting:
Army Outdoor Recreation, Kaiserslautern Community
Pulaski Barracks, Bldg. 2905
Cancellation Policy:
10% Cancellation fee for all cancellations made before Monday, September 7
40% Cancellation fee for all cancellations made on or after Tuesday, September 8
60% Cancellation fee for all cancellations made on or after Thursday, September 17
70% Cancellation fee for all cancellations made on or after Thursday, September 24
100% Cancellation fee for cancellations made on or after Thursday, October 1

In the event that a customer cancellation results in a fee charged to Outdoor Recreation, regardless of the date of that cancellation, the total sum of those fees will be passed along to the customer.
COVID Precautions:
Trip timelines and schedule are subject to change at any time due to changes in COVID restrictions.
All trips are departing from the Pulaski Sports Pavilion in Pulaski Park until further notice.
Masks covering your nose and mouth are required at all times on the bus.
Hands must be sanitized before boarding the bus.
Enter and exit through the rear door only.
Seats may be assigned in advance to promote physical distancing and contact tracing. Requests for specific seats are not being accepted.
All passengers must provide full name, physical address and phone number for contact tracing purposes.
Eating and drinking in ODR vehicles is not authorized
All Travel Documentation is the responsibility of the passenger. Border restrictions may occur at any time without warning. Many European countries are expected to continue entry restrictions for personnel traveling only on US Tourist Passports. Therefore ODR strongly recommends that all travelers travel with both their tourist and official passports and/or SOFA card.
Contact