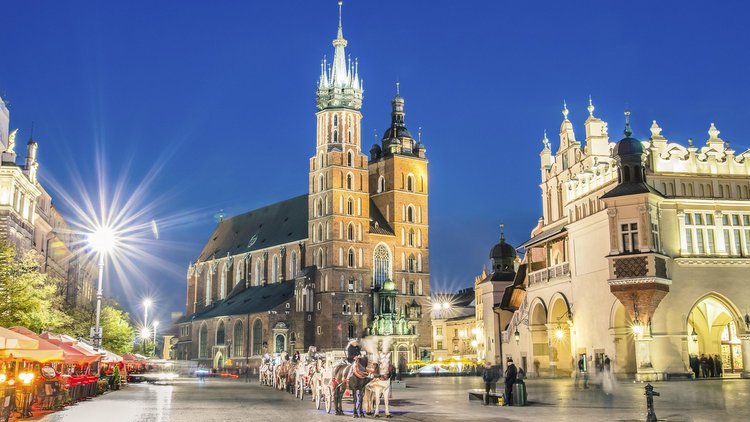 Date: Sep 4 2020, 12:05 a.m. - Sep 7 2020
Kaiserslautern Outdoor Recreation - Pulaski Barracks Bldg. 2905 Kaiserslautern 67661 Google Map
Explore the UNESCO world heritage city of Krakow, shop for blue-glazed Polish pottery, and experience the horror of Auschwitz on this trip, brought to you by Kaiserslautern Outdoor Recreation.
After an in route stop-n-shop in Boleslowiec, famous for it's many pottery factories, you will continue to your hotel in Krakow, from where you will be free to explore this beautiful renaissance city with countless attractions like Wawel Castle and the nearby salt mines. You will also have the opportunity to visit Auschwitz Concentration Camp* to learn of the horrors of the holocaust, and other excursions will also be available from your on site tour manager.
Spaces on this trip are expected to sell out quickly. Reserve yours today with Kaiserslautern Outdoor Recreation.
Estimated Itinerary
Thursday: Check in
Check in will open at 11:30 p.m. After settling into your seat you will lean back and relax while your comfortable coach whisks you away to Poland. Don't forget the essentials for your overnight ride. Blankets, pillows, power banks, snacks and drinks will all help make your journey to Boleslowiac more enjoyable.
Friday: Polish Pottery and Krakow
You will start your Labor Day Weekend in the town of Boleslowiac, home to the famous Polish Pottery factories. Hand-made ceramics with a distinctive blue glaze have been a local specialty in Boleslowiac since the middle ages, and buying directly from the factories will keep your costs low as you start or complete your pottery collection, and if you register for this trip before Friday, July 24, you will save $50 off the registration price, allowing you to buy even more Polish Pottery. After a break for lunch in the city center, you will continue to Krakow, arriving in time for a dinner in one of Krakow's many restaurants. Simple and delicious, Poland's hearty food and unique flavors are sure to make your weekend extra special.
Saturday: Krakow
Krakow is Polands former capital and second largest city, and has been called one of Europe's most beautiful cities. Its Old Town is a UNESCO World Heritage site. After a morning tour of the city center you will have free time to explore lively city. The horse-drawn carriage rides starting from the Main Market Square are an excellent way to see the city, and you are sure to enjoy your lunch at one of the many traditional restaurants, pubs and cafes located underneath the vaulted ceilings of the medieval cellars. No visit to Krakow is complete until you have had a ring shaped Obwarzanki.
Sunday: Free day or visit to Auschwitz*
Auschwitz will forever remain the black hole of the entire human history, and is an important and tragic reminder of the horrors of the past which must never be allowed to happen again. Your visit to both Auschwitz and Birkenau will horrify you, but is one of the things which should be on your to-do list while serving in Europe. While nobody will ever say that they enjoyed their visit to the camps, your free evening in Krakow and a meal of Pierogi, dumplings stuffed with the filling of your choice, is sure to lift your spirits.
Monday: Return to Kaiserslautern
After breakfast you will board your bus for return to Kaiserslautern. Relax while the bus returns you to your point of origin.
* Auschwitz visit not recommended for children under 12.
Price:
Adults: $479 per person
Single Supplement: $629
Children 4-11 sharing family or adjoining rooms with 2 adults: $349 p.c.
Children under 4 on existing bedding: $199

Room assignments for families will be determined individually by the hotels based on their specific capacity and available room types.
Families will be assigned to Family Rooms or adjoining double rooms by the hotels.
Kaiserslautern Outdoor Recreation will request Family rooms upon customer request, but does not guarantee the room configuration assigned by the hotel.
Discounts and Deadlines:
Early Bird discount expires at 6 p.m. on Friday, July 24
Empty hotel rooms will be cancelled on Tuesday, August 18. Registration on or after Wenesday August 19 will be on a Space Availability Basis.
Group reservation for Auschwitz will be made 30 days in advance. Trip registration on or after Wednesday, August 5 will only include Auschwitz on a Space Available Basis
Reserve your space today!
Trip Includes:
Round trip tour bus transportation
3 nights lodging at a 3 star city center hotel
Daily breakfast
Guided tour of Krakow
Guided visit to Auschwitz
Free electronic travel guidebooks downloaded from Army Libraries
What to Bring:
Comfortable, weather appropriate shoes and clothing
Credit/Debit card or Polish Zloty
Military ID and Passport
Departure: 12:01 a.m. on Friday, September 4
Return: Around 11:30 p.m. on Monday
Registration Info
All reservations must be made through Kaiserslautern Outdoor Recreation. Reserve your space today by contacting:
Army Outdoor Recreation, Kaiserslautern Community
Pulaski Barracks, Bldg. 2905
Cancellation Policy:
10% for cancellations made until Monday, August 3
40% for cancellations made on or after Tuesday, August 4
70% for cancellations made on or after Thursday, August 20
100% for cancellations made on or after Thursday, August 27

In the event that a customer cancellation results in a fee charged to Outdoor Recreation, regardless of the date of, or reason for that cancellation, the total sum of those fees will be passed along to the customer.
COVID Precautions:
Trip timelines and schedule are subject to change at any time due to changes in COVID restrictions.
All trips are departing from the Pulaski Sports Pavilion in Pulaski Park until further notice.
Masks covering your nose and mouth are required at all times on the bus.
Hands must be sanitized before boarding the bus.
Enter and exit through the rear door only.
Seats may be assigned in advance to promote physical distancing and contact tracing. Requests for specific seats are not being accepted.
All passengers must provide full name, physical address and phone number for contact tracing purposes.
Eating and drinking in ODR vehicles is not authorized
All Travel Documentation is the responsibility of the passenger. Border restrictions may occur at any time without warning. Many European countries are expected to continue entry restrictions for personnel traveling only on US Tourist Passports. Therefore ODR strongly recommends that all travelers travel with both their tourist and official passports and/or SOFA card.
Contact