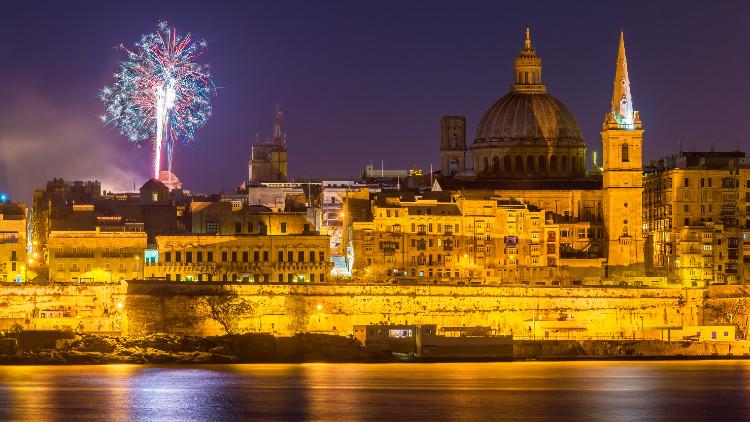 Date: Dec 30 2020, 6:30 a.m. - Jan 3 2021
Kaiserslautern Outdoor Recreation - Pulaski Barracks Bldg. 2905 Kaiserslautern 67661 Google Map
Spend New Years Eve on the Sunny Islands of Malta, known far and wide for history, wine, and water sports.
From your 4 star sea side resort on the shores of St. Paul's Bay, you will find yourself across the street from to Bugibba Perched Beach and conveniently close to the Maltese National Aquarium, Bugibba Water Park, and multiple dive sites and dive shops. You may be tempted to stay in Qawra and enjoy the amenities of the hotel including indoor and outdoor pools, a sauna, fitness room and massage center, but if you want venture further afield you will find your choice of many bus and boat day trips, including visits to the historic cities of Valetta and Mdina. You can cruise to the Blue Lagoon at Comino, or you can take a day tour of the island of Gozo where you can visit the 7000 year old temples and Game of Thrones filming sites. Malta's Mediterranean climate makes for warm winters, rarely colder than 50 degrees. While it may be too cold for swimming and snorkelling, SCUBA divers will still be able to get some use from their wet suits at Malta's many dive sites.
Malta gets 300 days of sunshine every year! Reserve your space today to enjoy 4 of them, including New Years Eve, however you wish, with Kaiserslautern Outdoor Recreation.
Estimated Itinerary
Wednesday: Kaiserslautern to Malta
Your morning flight to Malta will have you on The Sunny Islands and checked into your 4 star sea side resort complex by early afternoon, putting you in position for an unforgettable New Years Eve. Put away your parka when you reach Frankfurt Airport; you wont need it again until next year! Maltas mild winters rarely get below 50 degrees, so you will enjoy a preview of spring this New Years Weekend.
New Years Eve
In recent years, casual Maltese traditions focusing on family have given way to thrilling fireworks and bustling street parties from one end of the island to the other. The biggest parties are in Paceville and St. Julians, Floriana, and of course the capital city Valetta, the former fortress of the Knights of St. John, but the Maltese love their fireworks and they are part of every celebration. For a unique New Years experience, you can book a boat tour and view the fireworks from a more intimate environment at sea. If you choose to stay in for the years end, you are cordially invited to attend the Gala Sylvester Dinner in the hotel complex, which is included in your package. Make sure to try the traditional Imbuljuta Tal-Qastan, an upgraded version of hot chocolate which is made of is made from dried chestnuts, cocoa, tangerine rind, cloves and sugar, and takes the place of Gluhwein.
New Years Day
New Years Day is a public holiday, but the Maltese Classic Car Collection will be open this morning, and anyone can always enjoy Malta's beaches and historic cities and locations. The Buggiba Perched Beach is just a few steps away from the resort, and overlooks the beautiful and historic St. Paul's Bay, named for the apostle who was shipwrecked on its islands.
Saturday: Free Day
How will you spend your last full day in Malta? That is up to you, but the 6000 year old Neolithic temples on Gozo are worth a visit, as is Comino's Blue Lagoon. The medieval cities of M'dina and Rabat will show you pieces of Malta's multicultural history, with Muslim and Christian influences atop much older remnants from the Greeks, Romans, and Byzantines. Interacting with various reptiles, birds and sea mammals, or even swimming with the dolphins at Mediterraneo Marine Park, Malta's version of Sea World will appeal to nature lovers of all ages.
Sunday: Return to Kaiserslautern
You wont have to rush to the airport at the first thing in the morning today, your early afternoon flight will allow you to have a leisurely breakfast before transferring to the airport. After spending New Years Eve in Malta and allowing your skin to absorb some much missed Vitamin D, you will be sad to have to unpack your jackets.
Price on or before Wednesday, September 30
Double Occupancy: $849 per person
Single Occupancy: $1099
1 child under 12 with 2 paid adults in Triple Room: $699
Child and Infant Under 3 rates upon request
Price on or after Thursday, October 1
Double Occupancy: $949 per person
Single Occupancy: $1199
1 child under 12 with 2 paid adults in Triple Room: $699
Child and Infant Under 3 rates upon request
Upgrade to Seaview Room: $50 per person
Deadlines and Discounts:
Early bird discount applies to all registrations made on or prior to Wednesday, September 30
Empty hotel rooms and unused airplane tickets will be cancelled on Monday, October 26
Registrations made on or after Tuessday, October 27 are subject to Space Availabile rebooking and may be subject to airline re-ticketing price suppliments.
Trip Includes:
Round trip transportation including airfare and all airport shuttles
4 overnights at a four star sea side resort**** on St. Paul's Bay or equivalent
Daily breakfast and dinner
Access to Gala New Years Dinner on New Years Eve
What to Bring:
Comfortable, weather appropriate shoes and clothing
Credit/Debit Card or Euro
Military ID and Passport
Departure: 6:30 a.m.
Return: Around 7 p.m.
Registration Info
All reservations must be made through Army Outdoor Recreation. Sign up today by contacting:
Army Outdoor Recreation, Kaiserslautern Community
Pulaski Barracks, Bldg. 2905
Cancellation Policy:
10% Cancellation Fee for all cancellations made on or prior to Tuesday, October 27
10% Cancellation Fee plus 165 Euro for all cancellations made on or after Wednesday, October 28
40% Cancellation Fee for all cancellations made on or after Friday, November 27
80% Cancellation Fee for all cancellations made on or after Wednesday, December 9
95% Cancellation Fee for all cancellations made on or after Wednesday, December 16
100% Cancellation Fee for all cancellations made on or after Wednesday, December 23

In the event that a customer cancellation results in a fee charged to Outdoor Recreation, regardless of the date of or reason for that cancellation, the total sum of those fees will be passed along to the customer.
COVID Precautions:
Trip timelines and schedule are subject to change at any time due to changes in COVID restrictions.
All trips are departing from the Pulaski Sports Pavilion in Pulaski Park until further notice.
Masks covering your nose and mouth are required at all times on the bus.
Hands must be sanitized before boarding the bus.
Enter and exit through the rear door only.
Seats may be assigned in advance to promote physical distancing and contact tracing. Requests for specific seats are not being accepted.
All passengers must provide full name, physical address and phone number for contact tracing purposes.
Eating and drinking in ODR vehicles is not authorized
All Travel Documentation is the responsibility of the passenger. Border restrictions may occur at any time without warning. Many European countries are expected to continue entry restrictions for personnel traveling only on US Tourist Passports. Therefore ODR strongly recommends that all travelers travel with both their tourist and official passports and/or SOFA card.
Contact