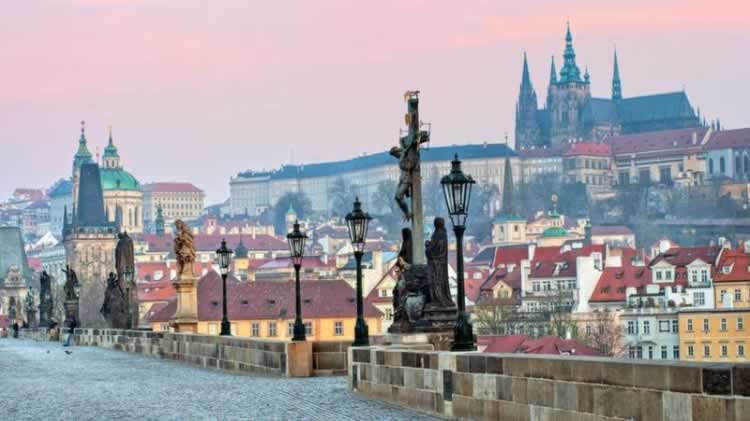 Date: Aug 15 2020, 2 a.m.
Kaiserslautern Outdoor Recreation - Pulaski Barracks Bldg. 2905 Kaiserslautern 67661 Google Map
Enjoy a day in Prague, the Bohemian capital, where the sight seeing opportunities are endless.
Czechs say "All cities are jealous of Paris, but Paris is jealous of Prague." and your friends will be jealous of you while you stroll across Charles Bridge, visit Prague Castle, return to the Soviet era at the KGB Museum or inside a nuclear bunker, admire the Old Town Square and astronomical clock, and sample Bohemian craft beers in a brew pub. With no set schedule or tour guide to follow, you are free to explore Prague in your own way and at your own pace.
Part of Prague's charm is the many unique attractions hidden along the side streets. Don't waste your visit to Prague by following someone else to what they want you to see. download a free electronic travel guide book for your phone or tablet from Army Libraries and use it to find the hidden gems which appeal the most to you.
Before traveling with Kaiserslautern Outdoor Recreation, make sure you are authorized to do so, have the proper travel documents, and have familiarized yourself with our Coronavirus Precautionary Practices.
This popular trip sells out regularly. Reserve your space with Kaiserslautern Outdoor Recreation today.
Price:
Adults $99 per person
Children under 12: $69 p.c.
Trip Includes:
What to Bring:
Comfortable, weather appropriate shoes and clothing
Credit/Debit Card or Czech Crowns
Military ID and Passport
Departure: 2 a.m.
Return: Around 3 a.m. on Sunday
Registration Info
All reservations must be made through Army Outdoor Recreation or Webtrac. Sign up today by contacting:
Army Outdoor Recreation, Kaiserslautern Community
Pulaski Barracks, Bldg. 2905
Cancellation Policy:
Cancellations requested 48 hours prior to trip departure will receive a 90% refund.
Cancellations made less than 48 hours prior to departure will receive a 50% refund.
There are no refunds for no-shows or cancellations made less than 12 hours prior to departure.
In the event that a customer cancellation results in a fee charged to Outdoor Recreation, regardless of the date of or reason for that cancellation, the total sum of those fees will be passed along to the customer.
COVID Precautions:
Trip timelines and schedule are subject to change at any time due to changes in COVID restrictions.
All trips are departing from the Pulaski Sports Pavilion in Pulaski Park until further notice.
Masks covering your nose and mouth are required at all times on the bus.
Hands must be sanitized before boarding the bus.
Enter and exit through the rear door only.
Seats may be assigned in advance to promote physical distancing and contact tracing. Requests for specific seats are not being accepted.
All passengers must provide full name, physical address and phone number for contact tracing purposes.
Eating and drinking in ODR vehicles is not authorized
All Travel Documentation is the responsibility of the passenger. Border restrictions may occur at any time without warning. Many European countries are expected to continue entry restrictions for personnel traveling only on US Tourist Passports. Therefore ODR strongly recommends that all travelers travel with both their tourist and official passports and/or SOFA card.
Contact