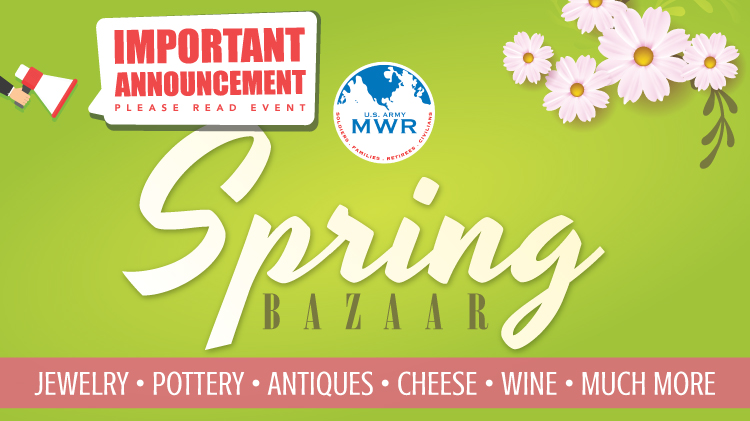 Note: This event has already passed.
Date: Mar 5 2020, 10 a.m. - 7 p.m.
Special Events Center, Rhine Ordnance Barracks Bldg. 237 and 229
Dear USAG Rheinland-Pfalz Patron,
Our Spring Bazaar will be starting on Thursday, March 5, and we look forward to seeing you there! We understand your concern regarding COVID-19 and we would like you to know that we are taking measures to help prevent the spread of respiratory diseases.
We will have handwashing and hand sanitizing stations throughout the entire area of the bazaar to include entrances/exits. We will have a cleaning crew coming through every 30 minutes to ensure that areas are clean and disinfected frequently. Italian vendors who come from quarantined areas in Italy will not be present at this bazaar.
There are currently no closures or restrictions at USAG Rheinland-Pfalz, yet precautionary measures are in place. Therefore, we hope to see you at the Spring Bazaar.
Be sure to visit the Spring Bazaar, now open four days! (Thu-Sat 10 a.m.-7 p.m. and Sun 10 a.m.-5 p.m.) Vendors from all over Europe will showcase jewelry, furniture, home décor items, oriental rugs, cuckoo clocks, wine, cheese, Belgian chocolate, Polish pottery and more! Stroller-friendly and great for the entire family. Open to all U.S. ID cardholders. Dollars, Euros, credit cards and debit cards accepted. Rhine Ordnance Barracks, Bldg. 237 & 229
Vendors:
Vendor
Item
Abdullah & Meghdir Gbr
Handmade Rugs and Kelims
AD Art
Beautiful sterling silver jewelry with amber and other gemstones
Alphabet Photography Ltd
Uniqure timeless and original gifts for someone who has everything.
Andar Polish Pottery
Original, hand-made and hand-painted Polish pottery from Boleslawiec city
Andy's Polish Pottery
Original Andy's Polish pottery dishware handmade with love
Anita Ammerlaan Art
Original handmade paintings, and greeting cards
Antickhallen Wolters
Custom built heirloom quality furniture handcrafted in Holland
Antica Officina Partenopea
Italian delicacies
Armin & Marion
Tapestries, tree skirts, REISENTHEL baskets, Christmas decoration, pillows, home textiles
B&M Delicacies
B&M Delicacies stands for Dutch and Belgian quality food
Belux AG
Belgium cookware
Bourse aux Vins
Bijans wine & barrel specialist; French wines, champagne & unique winebarrel furniture
Bubbles Oh La La
French soap, body lotion and bath bombs
Bunzlauer Keramik Studio
Polish pottery from Bunzlau, hand pained ceramic
Cape & Collectibles
Comic books from 1960s to modern day
Ceramica
Spanish ceramic bowls, platters, plates, etc.
Cool Bamboo/Ahmet Boz
Pillows and bed sheet sets in various sizes and types(especially bamboo).
Cosi Duci di Vicenzo Coppola
Olive wood handicraft: Decoration and kitchen items.
CreativeDesignArts
Handcrafted jewelry, pop up cards, lifestyleproducts and dreamcatchers
Crystal Guth
Crystal, glasses, gifts
Delp Leather and Fur
Leather jackets and accessories handmade craft made in Italy
Dussard Art Gallery
Artwork
Ellen Fahrbach
ellens allerlei vinegar and oil
Emin GmbH
Assorted carpets and kilims with quality and price guarantee
Energetix
Magnetic jewelry and health products designed for a healthier lifestyle!
Eva Buchwald, Vintage Collection and Home Deco
Customized furniture, upholstery, fabrics and home decorations
Exclusive Living Furniture
Reclaimed, custom furniture, Belgian beer and home décor
FitLine Handelsvertretung
Fitline supplements, drinks, and beauty products
Frank's Antikhaus
Swedish Moraclocks, firepots, furniture of different Countries, sheet metal models (car, aircraft, motorcycle)
FranzArts
Handpainted oil paintings
Get Yours – by Momo
Handcrafted olive wood kitchen and tableware from Italy, customizable fire columns, & engravable glassware
Giovanni Filomena Cutlery
Best quality of German forged knives & flatware and Italian pots & pans
Giuseppe Scala e. K. Inh.
Italian honey fruit wine, bottle holders, inlaid wooden boxes
Gomel GmbH
Belgium tapestries, handmade/machine carpets and accessories
Good Old Soap Shop
Handmade, natural, vegan soaps and bath bombs made in Germany.
Goufrais / CMF Produkte Keller
Goufrais Chocolate - the perfect gift for family and friends all over the world.
Greensills Gallery
GREENSILLS GALLERY Paintings and beer from The Black Forest
Gunter Arnold Furniture
German Grandfatherclocks (antique and new), Bavarian microbrew Beer and pictures of beer labels
Heike Toys
Handmade and machine made German wooden toys
Himalaya Fairtrade
Silver and stone jewelry, singing bowls and leather books cover
Holland Handicraft
Family business specializing in handcarved cookieboards, barrel furniture & accessories, and European crafts
HolzART
Christmas and winter decorations, gnomes, handcrafted wooden artwork exhibits and decorations, wooden giftware and accessories
Home Sweet Home
German Living - Dining - Bedroom Furniture,
German Black Forest Grandfather Clocks
Island Wollparadies
Icelandic wool blankets, sweaters, coats, socks, cushions, and accessories
Italian Wine & Gifts Lino & Romenio
Italian wine and olive oil
Jewellery Mountain
' Sculptor | Jeweller, transforming Metal to miracles of Beauty & Imagination ' unique Handcrafted Jewels by Hewaida Ramly
Kocokookie Kreations

High Quality handmade pet accessories, bandanas,scarves, waterproof/reversible coats, snuggle sacks, bow-ties, blankets,and toys

Kokopelli
Wooden selfmade puzzles painted with natural colors and custom-made puzzles with names.
Kunsthandwerk & Design
German handmade and own designed woodcraft, Christmas decoration, Ornaments, Pyramids-Mills, Window arches, weatherhouses, Tree toppers, ceramic and wooden lights
L'arte dell'Olivo
Handcrafted Artisan Balsamics & Exceptional Award Winning Extra Virgin Olive Oil from Tuscany!
Little Box Kitchen
British cheese, olives, puddings, fudge, sauces, and handsewn goods
Lucky Sheep
Sheep furs, holiday socks, wool products, rugs, perfume and lamps
Magic Flame Woodburning
Custom engraved wood plaques, includes free engraving
Mannini Italian Bed Textiles
Vera Italian Luxury Linen
Markus Wahl
Artwork
Meersseman
Metal home decorations and Nepal Items
Monschau Mustard
20+ types of handcrafted mustards, venison salami, vinegars and other delicacies
Morokko Shop
Towels, soap and Moroccan lamps
Muggendorf Factory
Christmas tree ornaments, nutcrackers, smokers, pyramids, antique decorations
Nathalie Paschke
Leather goods, Backpacks, messenger bags, wallets, belts, purses, European brands
Old Dutch Cheese's
Belgium beer, Dutch cheese and cookies
Olga's Cheese
Dutch cheese, cookies, mustard, wooden shoes and assorted souveniers from the Netherlands
Oropallo EVOO
ITALIAN LIQUID GOLD - First Cold Pressed, Unfiltered EVOO, Harvest 2019
Pappon
Swords and Fantasy goods; Leather bags; Fashion bags; Gifts; Wooden boxes; Fairies, Dragons and Characters; Knife-Sets
R & C Furniture
Belgium refurbished/self designed furniture made with reclaimed wood
Riva Grande
Italian homemade wine
Ronnefelat Tea Shop
Tea, tea accessories, porcelain cups, teapots, candied sugar and honey
Rozendaal
Antique furniture
Sapore Italiano - Alessandro Giura
Italian food items (Sicilian cookies, truffles, pesto, salami, and cheese, and cannoli)
Sarah By The Sea
Handcrafted leather, wood, and copper products. Backpacks, t-shirts, hats, art.
Schmuckkasten
A profusion of jewelry, lush silks and wollen scarves...from simple to spectacular
Schnaps House
German schnapps, liquor and jams
Souvenirhandel Svetlana
Russian nesting dolls and boxes
Templers Vertriebs
Templers Beer, liquors, wine and medieval knight clothing and accessories
The Kenya-Shop
African art
The North Pole
Polish Christmas glass ornaments
TraTas - Traudes Taschenhande
Bag in Bag System
Turkish Bazaar & Home Decorations
Turkish furniture, glassware, porcelain, wrought iron items, lamps, rugs, and pillow cases/blankets
Turkish Souvenir Store
Turkish lamps, rugs and ceramics
Viola's Blankets
Alpaca, mohair and lambs wool blankets, mohair sweaters, etc.
Wajos Die-Genussmanufaktur
Selection of oils & vinegar, wine, liqueur, gin and belgian delicacies
Weingut Alfons Sebastiani
German Mosel wine (family business)
Weingut Eduard Kroth
German wine
Weingut F. Daudistel
Specializing just for the Holiday Bazaar: Fireball- Glühwein, El "Dulce" (Vino de Licor)from Spain International Wines
Weingut Schlössel
Red and white wines, Weinbrand, Grappa, wooden crates, wine decorations, gifts and accessories
Woodamour Di Massin Andre
Assorted Belgium home decorative items, mirrors, etc.
Woodlands Studio
Home is Where the Army sends us - plaques/Duty Stations/family names personalised while you wait
Wrought Iron Luigi
Italian handmade wrought iron home furnishings and accessories

XURREAL UG

Assorted Pro-Mium car and household cleaning products
Thank you to our sponsors!

Sponsorship does not imply federal endorsement.
Contact
Tel:

0611-143-541-9106

Military DSN Tel:

541-9106