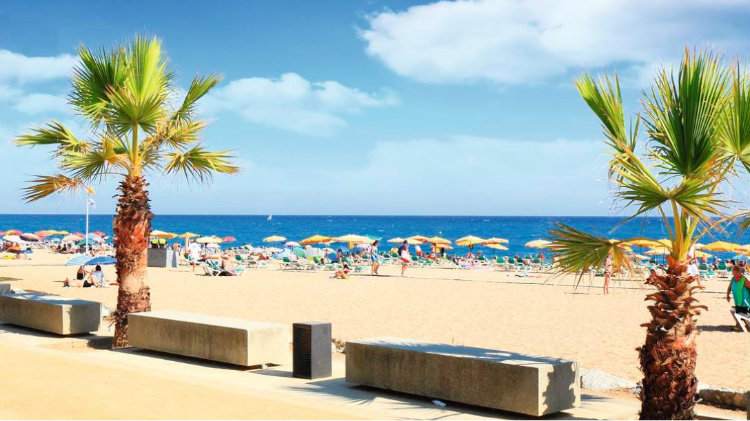 Sun and Sand - Santa Susanna, Spain
Date: May 21 2020, 6 p.m. - May 25 2020
Kaiserslautern Outdoor Recreation - Pulaski Barracks Bldg. 2905 Kaiserslautern 67661 Google Map
Kick off a summer of fun on the beach in Santa Susanna, Spain this Memorial Day Weekend.
Estimated Itinerary:
Thursday: Check in
After settling into your seat you will lean back and relax while your comfortable coach whisks you away to the Costa Brava, just up the coast from Barcelona. Don't forget the essentials for your overnight ride. Blankets, pillows, power banks, snacks and drinks will all help make your journey to Spain more enjoyable.
Friday: Arrival on the beach and free time
You will know that summer has begun when you arrive in Santa Susanna and begin to explore the beaches and promenade. Your four star hotel, on the waterfront promenade, will be your home base for a weekend full of adventure. Whether you spend your time on the golden sands of Playa de las Dunas, or stay at the hotel enjoying its pools and spas, your weekend is likely to revolve around the water. At the Santa Susanna Watersports Centre, you will find JetSkis, paddleboards, kayak and other boat rental, and much more. The promenade features countless restaurants and bars with varied entertainment options for everybody, and the train station will allow you easy access to a short train ride to Barcelona or Girona.
Saturday: Free time and Barcelona
On Saturday you can continue to play on the beach, or take a tour of Barcelona. Your visit to Barcelona will take place in the afternoon and will include enough time for an early Catalonian dinner, while your morning is free for whichever land, air or water activities you want to try.
Sunday: Free time or Andorra
An optional excursion to Andorra* will give you the chance to visit the tiny mountain country and duty free shopping paradise. Located high in the Pyranees, Andorra is an independent principality in a rugged and beautiful location. The sixth-smallest country in Europe (and 16th smallest in the world) is often overlooked on the map, but you cannot say you have been everywhere in Europe until you have visited Andorra.
Monday: Return to Kaiserslautern
After breakfast you will board your bus for return to Kaiserslautern. Relax while the bus returns you home.
* Optional excursion paid directly to tour manager
Price:
Adults: $429 per person
Single Occupancy: $549
Children 4-11 sharing family or adjoining rooms with 2 adults: $349 p.c.
Children under 4: $179

Room assignments for families will be determined individually by the hotels based on their specific capacity and available room types.
Kaiserslautern Outdoor Recreation will request Family rooms upon customer request, but does not guarantee the requested room configuration will be available or assigned by the hotel.
Deadline: Reserve your space before Monday, April 20
Trip Includes:
Round trip bus transportation
3 nights lodging at a 4 star Superior, promenade hotel in Santa Susanna
Daily Breakfast and Dinner
Guided tour of Barcelona
Free electronic travel guidebooks downloaded from Army Libraries
Optional Excursions*: Visit to Andorra: €45 p.p./ €30 p.c.
*Paid on site to tour manager
What to Bring:
Comfortable, weather appropriate shoes and clothing
Credit/Debit card or Euro
Military ID and Passport
Departure: 6 p.m. from Kaiserslautern Outdoor Recreation, Pulaski Barracks, bldg. 2905
Return: Late Monday Evening
Registration Info
All reservations must be made through Army Outdoor Recreation. Reserve your space today by contacting:
Army Outdoor Recreation, Kaiserslautern Community
Pulaski Barracks, Bldg. 2905
Cancellation Policy:
10% cancellation fee for all cancellations made before Tuesday, April 21
40% cancellation fees for all cancellations made on or after Tuesday, April 21
60% cancellation fees for all cancellations made on or after Thursday, April 30
70% cancellation fees for all cancellations made on or after Thursday, May 7
100% cancellation fee for all cancellations made on or after Thursday, May 14

In the event that a customer cancellation results in a fee charged to Outdoor Recreation, regardless of the date of that cancellation, the total sum of those fees will be passed along to the customer.
Contact