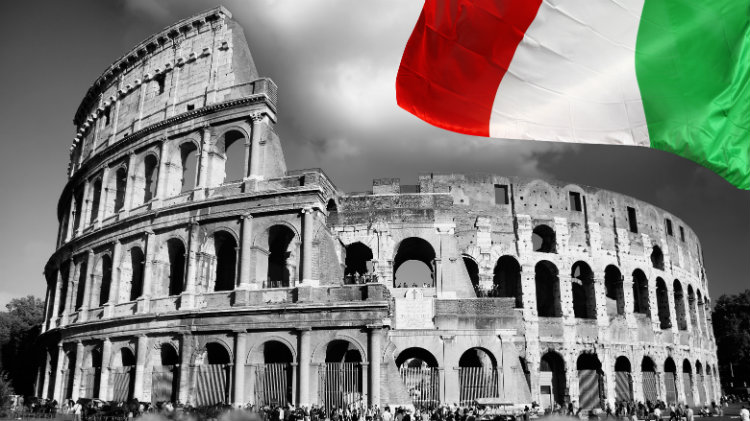 Date: Apr 3 2020, 6 p.m. - Apr 12 2020
Kaiserslautern Outdoor Recreation - Pulaski Barracks Bldg. 2905 Kaiserslautern 67661 Google Map
Italy is one of Europe's premier springtime destinations, due to its history, culture, and warmer climate. This Spring Break special will stop at many of the must see locations in Italy.
Your Ultimate Italian Spring Break includes guided visits to many of the mythological cities of Italy. All the classics; Rome, Florence, Pisa, Venice, Verona are included in your itinerary, and you will also visit lesser known gems like Montecatini, San Marino, Siena and San Gimignano. This is your chance to visit the Vatican City, take a gondola ride on Venice's Grand Canal, see Juliet's House in Verona, and be amazed by Florence Cathedral and the Uffizi Gallery. You will also have the chance to visit the Island of Capri or Positano to enjoy the Amalfi Coast. With 10 travel days and 8 overnights you will have time to see it all!
Bigger and better than any other Italian Spring Break Package, this Ultimate Italy tour sold out in 2017, 2018 and 2019 and will sell out again in 2020. Reserve your space before Tuesday, February 4 with Kaiserslautern Outdoor Recreation for the early bird discount!
Estimated Itinerary
3 April: Kaiserslautern - Pisa
Evening departure from Pulaski Barracks (overnight onboard)
4 April: Pisa - Lucca - Montecatini
Arrival in Pisa and your opportunity for breakfast and sightseeing in the Piazza dei Miracoli (Place of Miracles). This entire plaza, including it's famous leaning tower was designated as a UNESCO World Heritage site in 1987 and is considered one of the most important examples of medieval architecture. In the afternoon we will continue to Montecatini Terma with a stop for lunch and shopping in Lucca. After checking into your hotel, you can enjoy the rest of your day exploring the spa resort, perhaps taking a funicular ride to Montecatini Alto, the original Montecatini settlement, lying a few hundred meters above the 'new' town. The views from here are splendid, and the delightful Piazza Giusti is home to some good bars and restaurants. (Overnight Montecatini)
5 April: Florence - The Cradle of the Renaissance
Today is dedicated to visiting Florence, The Cradle of the Renaissance, where a city walking tour will reveal its most famous attractions such as the 14th century Palazzo Vecchio, located at Piazza Della Signoria. The piazza is focal point of the origin and of the history of the Florentine Republic and still maintains its reputation as the political hub of the city. The square is also home to the world's largest renaissance art collection at the Uffizzi Gallery, is close to Ponte Vecchio and much more. Florence is famous for its Italian leather and gold and there will opportunities to satisfy your shopping before returning to our hotel. (Overnight Montecatini)
6 April - San Gimignano, Orvieto and Rome
We leave this morning for the multi-towered city of San Gimignano one of the hidden secrets of Tuscany, and is featured prominently in Assassin's Creed 2. After exploring San Gimignano, you will continue through picturesque vineyards which produce the famous Chianti wines to of Italy's most charming towns, Siena where you will join our local guide for a walking tour. After lunch and free time, you will travel south to Orvieto on your way to Rome. The perched city of Orvieto is the ultimate hill-top city, mostly known for its cathedral and considered one of the most architecturally important cathedrals in Europe. You will end your day when you check into your four star hotel in Rome. (Overnight Rome)
7 April: Rome
Time on your own leisure or join the on an optional tour by a licensed local guide of the Vatican Museums & The Sistine Chapel and St Peter's Basilica* highlighting the papal apartments of the medieval Apostolic Palace, the Sistine Chapel, the exhibition rooms of the Vatican Apostolic Library and the museums themselves, and of course, St Peter's Square. In the afternoon, we embark on a city tour of ancient Rome emphasizing The Roman Forum, The Colosseum, The Arch of Constantine, Circus Maximus and much more. This evening you can enjoy a memorable dinner and an illumination tour* through Rome's city center. The walking tour will reveal the Italian nightlife on the piazzas with illuminated fountains and the winding streets of the historical city center. (Overnight Rome)
8 April: Capri, Sorrento and Positano
Departing early this morning, you will drive further south to the picturesque Bay of Naples. Here you'll have the option to take an optional boat ride* to the famous Island of Capri or to continue to Sorrento for free time. Enjoy the remainder of the day exploring the peninsula or else join us on an excursion to one Italy's most beautiful coastlines of Amalfi and its romantic town of Positano* seen in the movie "Under the Tuscan Sun". There will be an opportunity for a beach front dinner prior to retuning to Sorrento. Perhaps you'd wish to attend a typical Tarantella Show. (Overnight Sorrento)
9 April: Pompeii and Assisi
You will be joined by a local guide to tour Pompeii and learn of one of the world's most interesting archeological sites. Buried in ash by the eruption of Vesuvius, the ancient city tells its story like no other. This afternoon, we continue northward journey onto Assisi for an opportunity to visit St Francis Basilica before continuing to Perugia for our next overnight stay. (Overnight Perugia)
10 April: San Marino
Your journey's next leg of journey takes you across the Central Apennines Mountains where you will discover the Republic of San Marino, the most ancient European Republic, sitting at 700 meters above sea level on Mount Titano. Your local guide will explain the inner workings of a proud society that has survived hundreds of years of intrigues and disputes. In the afternoon, you will travel along the Adriatic coastline to Venice/Mestre for your next 2 overnight stay. (Overnight Padova)
11 April: Venice
Today you will take the waterbus to the island city of Venice for an orientation tour of St. Mark's Square, the central landmark, and its surroundings. Venice sprawls over 117 islands connected by bridges, and is Europe's original pedestrian zone, inviting you to enjoy a leisurely stroll, some shopping and sightseeing. Arrangements can be made for a romantic and charming gondola ride* that provides a very special view of the city and make up for a perfect coronation of our tour. Your tour guide will make suggestions for a typical Venetian Dinner*. (Overnight Padova)
12 April: Verona and Return to Kaiserslautern
After you check out from your hotel you will travel to Verona for a charming finale where we get to see Romeo & Juliet's eternalized Balcony and the famous Roman Amphitheater the summer home of the Aida performances. Following an opportunity for lunch, we travel homewards crossing Switzerland's majestic Alps arriving in Kaiserslautern during the late evening hours.
* Optional excursion paid directly to tour manager
Price:
Adults: $1279 per person
Single Occupancy: $1799
Up to 2 children aged 3-11 sharing family or adjoining rooms with 2 paid adults: $899
Children under 3 on existing bedding: $329

Room assignments for families will be determined by the hotels based on their specific capacity and available room types.
Families will be assigned to either Family Rooms or adjoining double rooms by the hotels.
Kaiserslautern Outdoor Recreation does not guarantee any requested room configuration will be assigned by any particular hotel.
Trip Includes:
Round trip bus transportation
8 nights hotel accommodation in multiple 3***+ and 4**** star hotels

2 overnights in Montecatini
2 overnights in Rome
1 overnight in Sorrento
1 overnight in Perugia
2 Overnights in Padova

Daily breakfast
Guided tour of Florence
Guided tour of Sienna
Guided tour of Rome
Guided tour of Pompeii
Guided tour of San Marino
Roundtrip Venice Boat Transfer
Free electronic travel guidebooks downloaded from Army Libraries
Optional Excursions paid on site to tour manager:
Guided tour of Vatican Museum, Sistine Chapel, St. Peter's Basilica: €47 p.p./ €37 p.c.
Rome Dinner and Illumination walking tour: €37 p.p. / €28 p.c.
Island of Capri Guided Tour: € 70 p.p. / € 50 p.c.
Guided Tour of Positano: € 55 p.p. / € 28 p.c.
Gondola Ride in Venice: € 39 p.p. / € 25 p.c.
Farewell Dinner in Venice: € 39 p.p. / € 28 p.c.
What to Bring:
Departure: 6 p.m. from Kaiserslautern Outdoor Recreation, Pulaski Barracks, bldg. 2905
Return: Late Sunday Evening/Early Monday morning
Registration Info
All reservations must be made through Kaiserslautern Outdoor Recreation. Reserve your space today by contacting:
Army Outdoor Recreation, Kaiserslautern Community
Pulaski Barracks, Bldg. 2905
Cancellation Policy:
10% cancellation fee for all cancellations made before 17 Feb 2020
40% cancellation fees for all cancellations made on or after 17 Feb 2020
50% cancellation fees for all cancellations made on or after 13 March 2020
70% cancellation fees for all cancellations made on or after 19 March, 2020
100% cancellation fee for all cancellations made on or after 26 March, 2020

In the event that a customer cancellation results in a fee charged to Outdoor Recreation, regardless of the date of that cancellation, the total sum of those fees will be passed along to the customer.
Contact