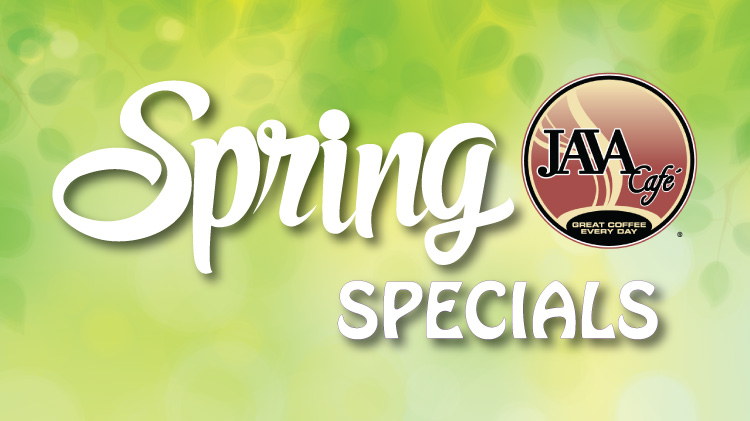 Java Café Spring Drink Specials
All Java Café's within USAG Rheinland-Pfalz are offering you continuous drink specials for the entire spring season!
100% delicious
Available at any Java Café location
Great for anyone to enjoy
These drinks are only available for the months of March, April, and May!
Stop by and take advantage of this tasty treat today!
Spring Drink Special List:
Coconut Chip Java
A delicious treat made with coconut syrup, chocolate chips, and mocha sauce; all blended together with milk and ice. Topped with whipped cream and chocolate drizzle.
Iced Turtle Macchiato
A refreshing layered combination of toffee nut, caramel, and chocolate. Served with espresso shots and milk over ice.
Raspberry White Chocolate Latte
A creamy hot beverage with espresso, white chocolate and raspberry syrup. Topped with whipped cream and white chocolate drizzle.
Participating Locations:
Landstuhl Java Café
Regional Medical Center, Bldg. 3774, Kaiserslautern
DSN: (314)486-7666
Commercial: +49 (0)6371-86-7666
Rhine Ordnance Barracks (ROB) Java Café
Rhine Ordnance Barracks (ROB), Bldg. 273, Kaiserslautern
DSN: (314)493-2623
Commercial: +49 (0)631-3406-2623
Sembach Java Café
Sembach Kaserne, Bldg. 109, Kaiserslautern
DSN: (314)541-9101
Commercial: +49 (0)611-143-541-9101
Kleber Jafe Café
Kleber Kaserne, Bldg. 3232, Kaiserslautern
DSN: (314)483-8063
Commercial: +49 (0)631-411-8063
Baumholder Java Café
Smith Barracks, Bldg. 8661, Baumholder
DSN: (314)531-2898
Commercial: +49 (0)611-143-531-2898